Custom mosaic creations
We create hyper-realistic custom mosaic creations and classics works, such as landscapes, portraits or representations of natural elements in their different colors and forms. On the other hand, we are also able to give life to abstract and modern mosaics, by using many kinds of cards.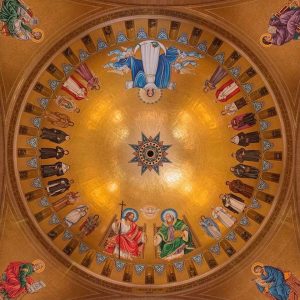 Our custom mosaic creations can involve, for example, religion: as regards religious works we are masters in Byzantine art, as we know all the rules and the characteristics of this particular technique which is more than a thousand years old. Our works can be seen in some of the most important places of worship all over the world, from the Holy Sepulcher in Jerusalem to the National Shrine of the Immaculate Conception in Washington D.C.
Travisanutto custom mosaic creations
People who want custom mosaic creations just have to decide the final placement and let us know the measures they want: when we know if the work is going to be placed inside or outside we will be able to give a cost estimate, after having decided which is the best technique to be applied in order to realize the mosaic and install it in its location in the best way.
Searching for custom mosaic creations? Contact us now!